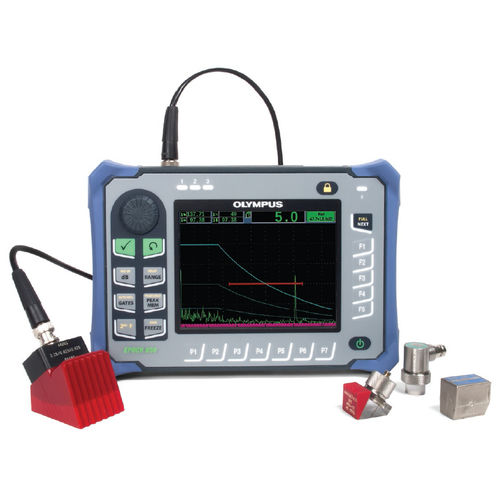 Economical Size, Quality Performance

The large, full VGA transflective display combined with our patented digital high dynamic range receiver provides a stable, striking A-scan representation in any lighting condition. The EPOCH 650 is designed to meet the requirements of EN12668‑1 and allows a full range of standard and optional flaw detection features. Multiple onboard reporting tools and a comprehensive data filing system enable you to easily collect and report high quality inspection data. The rugged, ergonomic design allows use in nearly any inspection environment, while the flexible PerfectSquare™ pulser and highest number of digital filters in its class can tackle nearly any application.


The EPOCH 650 Digital Ultrasonic Flaw Detector combines Olympus' industry leading conventional flaw detection capabilities with the efficiency of a highly portable, intuitive instrument. The EPOCH 650 flaw detector's blend of efficient menus and direct access keys allows you to take advantage of the highest quality flaw detection platform with exceptional ease of use. 

Designed for All Inspection Environments

The EPOCH 650 is designed for use in nearly any inspection environment, from bench top testing in a laboratory to extreme outdoor and hazardous conditions. Designed for IP rating in either knob (IP66) or navigation pad (IP67) configurations, and tested to very high environmental and reliability standards, the EPOCH 650 allows users in any inspection environment to feel confident in both the performance and durability of the instrument.